Rachel Abramson was kind enough to share her story with me. I loved reading about how her relationship is like Jim and Pam's. I hope you all will enjoy as well. Her blog is a super inspirational blog about body image and learning to love the human beneath your skin. I strongly encourage everyone to head on over to her blog.
Hello! My name is Rachel Abramson, and I am the author over at
hidingfromthemirror.wordpress.com
. Today, I am guest-blogging about the TV show The Office. My life in Netflix is Jim and Pam from the Office and their relationship.
I've been dating Nate Fergason for just over a year now. But we weren't always together. Just like Pam, when Nate and I first met, I was engaged to someone else. And from the day we met, we really hit it off, and joked around constantly, just like Jim and Pam.
During that time, Nate fell in love with me, but never told me. When the day came that my fiance had decided to break off our engagement, Nate was there for me, even when all I wanted to do was scream and cry. Like...seriously, who breaks off an engagement less than 60 days before your wedding??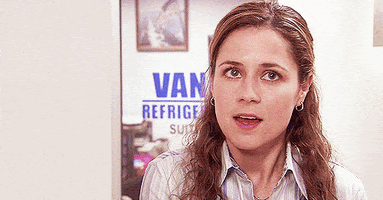 Anyways...the summer ended, and I hired Nate to do some art for me. We met at the mall, walked around and talked and talked and in the end, it was a really great day. We worked well together! Just like Jim and Pam.
About a month later, Nate came up to Cedar City, and we decided we would hang out again. He came to my house, and we talked until 3 in the morning. At the end of that night, he told me he loved me, and that was probably the weirdest moment of my life.
Well, after that, it was weird, and he left and was gone for a long time, like when Jim went up to New York to work. But every so often, I'd hear from Nate, just like the faxes Jim would send back to the office.
Time went by, and a little later on, Nate came back to Cedar and without hesitation, asked me on a date. It was totally unexpected!
Since then, we've been a strong couple! We make a really good team. We laugh together and cry together, and support each other in everything.
And if it's up to me, we will DEFINITELY end up like Jim and Pam one day.